SEMO women's basketball advance to OVC semis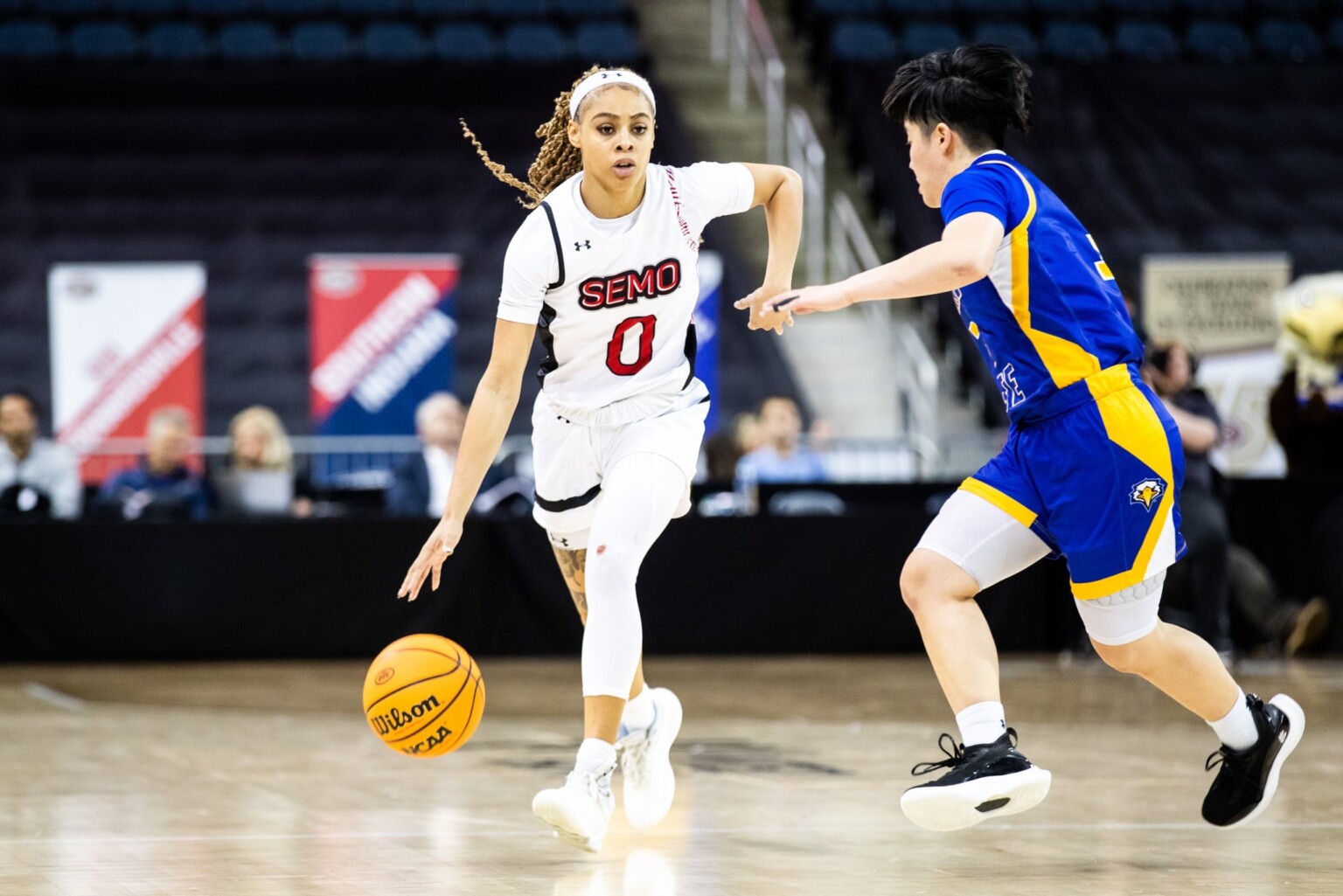 Photo courtesy of SEMO Athletics
EVANSVILLE, Ind. – #4 Southeast Missouri (16-14) continued its winning ways with a dominating 77-38 blowout to eliminate #8 Morehead State (11-20) in the quarterfinals of the Ohio Valley Conference Tournament Thursday.
SEMO claimed the largest win in an OVC Tournament game in program history. The 39-point victory surpassed the Redhawks' 80-49 win over Murray State during the league's 2006 tournament.
The Redhawks are now on a seven-game winning streak and advance to face top-seeded Little Rock in the semifinals Friday. SEMO and LR are presently the hottest teams in the league. The Trojans have won 12-straight. Tip-off for that game is set for 1 p.m., CT at the Ford Center.
SEMO led from wire-to-wire and held MSU to a mere 38 points, the lowest by any opponent the Redhawks faced this season.
MSU fell under 10 points in each of the first two quarters and trailed, 32-16, at the half.
Tamia Stallings' layup on a fast break off a nice pass by Rahmena Henderson extended the Redhawks lead to 16-7 with just under two minutes to play in the first quarter.
Diona Reed's layup gave SEMO its first double-digit lead with a layup just 21 seconds into the second period. Henderson later made two free throws to run the Redhawks lead to 28-10 with 4:19 left before SEMO headed into the locker room with its 16-point advantage.
Reed's second-chance layup put the Redhawks up by 20 at the 8:47 mark of the third quarter and Kennedi Watkins' bucket made it a 52-24 ballgame with 34 seconds to go.
SEMO put together an 11-0 fourth-quarter run to push its lead to 71-33. Sophie Bussard scored five points to key that surge which ended on a driving layup by Watkins with 3:36 left.
Chandler Davis' layup gave the Redhawks their largest lead of the day at 74-34 at the 2:40 mark before SEMO polished off its 16th win of the season.
Defensively, SEMO smothered MSU into committing 27 turnovers. The Redhawks had 16 steals and three blocks in the contest.
SEMO shot 47.5 percent (29-of-61) from the field with four players getting double figures in the scoring colunn.
Henderson paved the way with 13 points. Watkins followed with a double-double 11 points and 13 rebounds, while Bussard finished with 12 points and All-OVC performer Jaliyah Green had 11.
The Redhawks outrebounded the Eagles, 43-35, and outscored MSU at the free throw line, 17-8.
SEMO gave Rekha Patterson her fourth OVC Tournament victory as the Redhawks head coach. Patterson also guides the Redhawks to their second OVC Tournament semifinal appearance and first since they won the event at the Ford Center in 2020.