SEMO's Matukewicz, Hess take home coveted OVC awards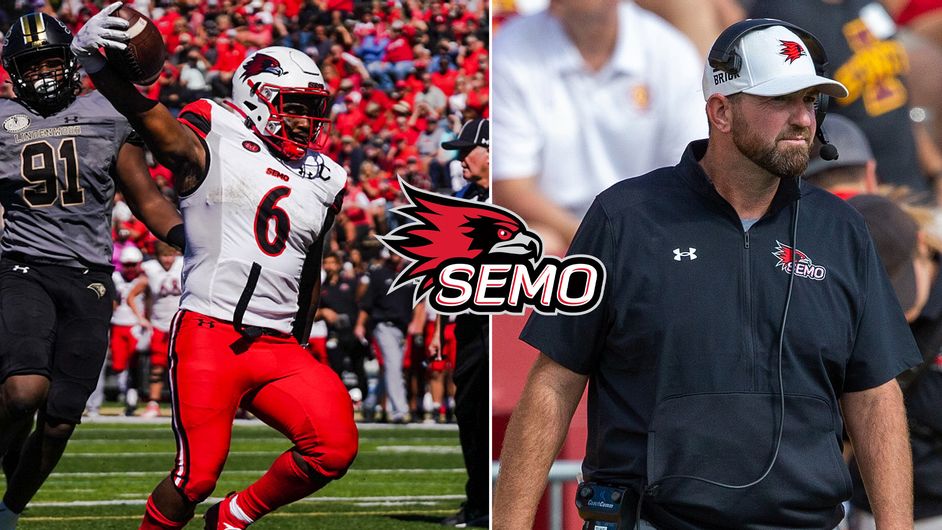 Story/photo courtesy of the SEMO Athletics Department
CAPE GIRARDEAU, Mo. – Tom Matukewicz was named the 2022 Ohio Valley Conference Roy Kidd Coach of the Year and running back Geno Hess was tabbed Offensive Player of the Year, the league announced Tuesday.
SEMO collected a total of 15 OVC postseason awards during its OVC championship season.
Hess, wide receivers Ryan Flournoy and Johnny King, offensive linemen Zack Gieg, Nate Korte and Shyron Rodgers, inside linebacker Bryce Norman, safety Lawrence Johnson and return specialist Dalyn McDonald all earned first-team accolades.
Tight end Will Weidemann, defensive tackle Steven Lewis, outside linebacker Keandre Booker and cornerback Ty Leonard are the Redhawks second-team picks, while quarterback Paxton DeLaurent claimed OVC All-Newcomer laurels.
In his ninth year as SEMO's head coach, Matukewicz won the league's prestigious Coach of the Year honor for the second time in his career. He guided the Redhawks to their third nine-win season and FCS Playoff appearance in five years. SEMO won its second OVC title with Matukewicz at the helm. He is one of 16 finalists for the 2022 Eddie Robinson Award which goes to the national coach of the year in the Football Championship Subdivision.
SEMO went 9-1 against FCS opponents and knocked off then-#17 Southern Illinois on Sept. 10. The Redhawks, who went undefeated in OVC play at 5-0, put together its fifth-straight winning conference season (program record). SEMO went 26-8 over that span. Prior to that run, the Redhawks did not have a winning OVC record since 2010 and did not have back-to-back winning OVC campaigns since 2002.
Nationally, SEMO ranks third in tackles for loss allowed (3.91 per game), fourth in punt return defense (1.62 ypr), fifth in turnovers lost (9), sixth in sacks allowed (0.91 per game), seventh in total offense (472.6 ypg) and fumbles lost (3) and ninth in rushing offense (233.2 ypg).
A native of Peoria, Illinois, Hess is only the third SEMO player to win the league's offensive player of the year honor joining fellow running backs Henry Harris (2010) and Marquis Terry (2018). He leads the FCS in total touchdowns (21), rushing touchdowns (19) and scoring (11.5 ppg). Hess' rushing touchdowns are fourth-most in OVC history, while his rushing yards (1,569) ranks ninth. He broke the school and OVC single-game rushing record with 317 yards vs. Murray State (Nov. 19) and is the only FCS player to clear the 300-yard plateau this year.
Hess, a finalist for the Walter Payton Award, ran for over 100 yards six times and now ranks third among OVC career leaders in rushing touchdowns (51), ninth in career rushing yards (3,990). His 3,990 yards are third-most among active FCS players.
Flournoy and King are one of the best wide receiver tandems in the OVC. Flournoy leads SEMO with 823 receiving yards and seven touchdowns in his first year as a Redhawk. King follows close behind with 774 yards and six TDs on a team-high 65 receptions. Both rank among the top 10 in the OVC in receptions and receiving yards per game.
Gieg started every game at center, Korte logged 10 starts at right tackle and Rodgers started eight games at left guard for a SEMO offense that leads the OVC in rushing and fewest sacks allowed. Gieg claimed first-team honors for the second year in a row.
Norman, from nearby Jackson, finished as SEMO's top tackler for the second-straight season. He recorded 108 tackles and ranks second in the OVC in that category. Norman, a finalist for the Buck Buchanan Award, posted double-digit tackles a total of six times.
Right behind Norman is Johnson with 76 stops. He is tied for first on the team with four sacks and leads the Redhawks with 7.5 tackles for loss. Lawrence has one interception and a team-best eight pass breakups, as well.
McDonald established himself as the top return man in the OVC on punts and kickoffs in his first year at SEMO. He leads the league in both punt (8.1 ypr) and kick (25.9 ypr) returns. McDonald even returned one of his kickoffs for a touchdown.
Weidemann secured his first All-OVC honor as the only SEMO player on the second-team offense. He has 12 catches for 150 yards this year.
Leonard ranks fifth on the team with 42 tackles at his cornerback spot, while Booker turned in 24 tackles, seven tackes for loss, four sacks and one interception. Lewis also added 33 tackles, 2.5 tackles for loss and three pass breakups for the Redhawk defense.
In his first year as SEMO's starting quarterback, DeLaurent won a program record six OVC Newcomer of the Week accolades. He completed 185-of-295 passes for 2,407 yards and 19 touchdowns with a 62.8 completion percentage. DeLaurent averages 267.4 passing yards per game and ranks second in the conference in total offense (299.1 ypg).