Snow falls in southeast MO, southern IL, western KY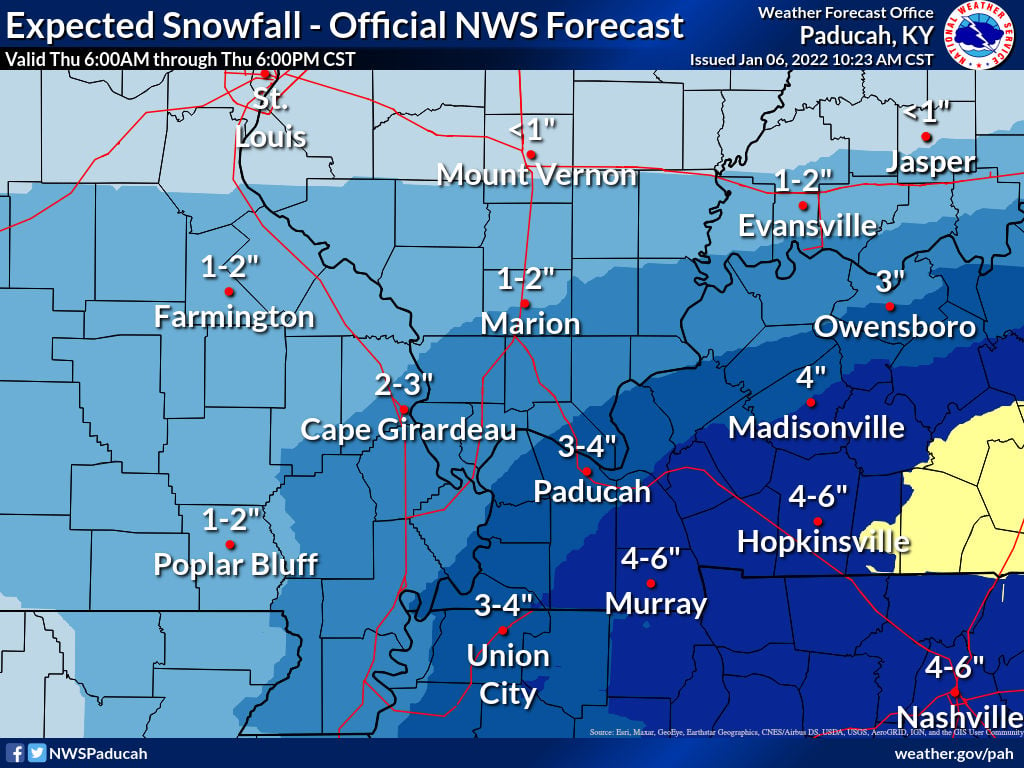 (KBSI) – The first snow of 2022 is falling in southeast Missouri, southern Illinois and western Kentucky.
Many towns in western Kentucky saw several inches of snow.
The National Weather Service Paducah urged everyone to use extra caution if driving across the region.
Check roads conditions before heading out to travel.
Missouri – MoDOT Traveler Information Map
Illinois – IDOT Winter Conditions Map
Kentucky – KYTC map
Kentucky travelers can also visit snowKY.ky.gov for traffic info, priority route maps and winter safety tips.
The U.S. 45 Ohio River "Brookport" Bridge between Paducah, Ky. and Brookport, Ill. is closed due to icing on the metal decking. The bridge will remain closed until temperatures rise sufficiently to melt the ice.
Also known as the Brookport Bridge and the Irvin S. Cobb Bridge, the U.S. 45 Ohio River Bridge is at McCracken County mile point 12.882.
Roads are becoming slick. The New Madrid Police Department warns of multiple crashes on Interstate 55.
Snow is beginning to accumulate on some roads across the region. It will continue to intensify through the morning.
Several schools have canceled classes for Thursday, Jan. 6. Check with your local school for closings.
The Scott City Police Department reminds drivers to drive with care.
• Maintain a safe distance between you and the car in front of you.
• Limit unnecessary distractions, such as cell phones and other electronic devices.
• Adhere to the speed limit and slow down while the roads are wet or icy.
• Be aware of pedestrians and other vehicles around you.
• Check your surroundings before making lane changes or turns.
Kentucky Gov. Andy Beshear said due to inclement weather he closed all state office buildings as of 11 a.m. on Thursday. Executive branch agencies will continue to provide services to the citizens of the commonwealth.
"The severe winter weather we're seeing across Kentucky right now is both real and dangerous," said Gov. Beshear. "The roads are already incredibly slick across most of the state and we are seeing ice and numerous accidents. We are urging Kentuckians to please not travel if you don't have to today."
A Winter Weather Advisory has been issued in portions of Central Kentucky north of the Western Kentucky and Bluegrass Parkways, where 1 to 4 inches of snow can be expected. The highest amounts of snowfall, 4 to 8 inches, are expected to fall across Southcentral and Eastern Kentucky, roughly from Bowling Green to Richmond.
The Governor urged Kentuckians to avoid travel due to hazardous road conditions and reports of multiple accidents. District crews from the Kentucky Transportation Cabinet have been pretreating roads this week, with crews out today responding to hazardous roadways.
Kentucky Transportation Cabinet asked travelers for cooperation and partnership with four specific requests:
Limit travel to what's necessary when snow and ice are on the roads;
Give snow plows and crew members plenty of room on the road; and
Ensure personal vehicles are winter ready, with the recommendation of keeping an emergency kit in vehicles.
Mask up to slow the spread of COVID-19 and help protect against the quarantine of plow crews essential to roadway treatment.
The Salvation Army has opened warming centers across Missouri and Illinois. Some of the centers offer overnight shelter. Tap here to see the list.
The Mayfield-Graves County Emergency Operations Center is working with the Red Cross and other agencies to activate a warming center in Mayfield.
Some families who are still using space heaters may have difficulty keeping their homes warm as temperatures drop through the day. If you have need of a warming center, call 502-871-1498.
ATMOS Energy has restored gas service to several sections of Mayfield. If your home has gas heat and you are staying at another location, you are asked to check your home for a door hanger that indicates your natural gas service is restored.
The door hanger directs you to call 1-888-286-6700 for individual assistance with the restoration of natural gas service.
Related stories: