Southbound lanes of I-69 back open after semi crash leaks liquid asphalt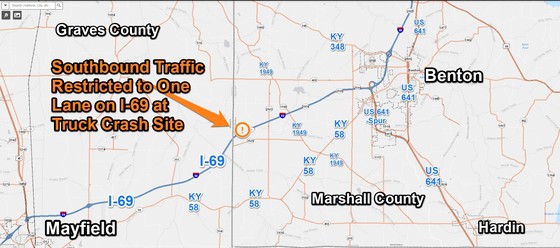 (KBSI) – A crashed semi that partially blocked the southbound lanes of Interstate 69 near the Graves-Marshall county line Thursday morning has been removed.
This early morning crash near the 35 mile marker on I-69 in Marshall County restricted southbound traffic to one lane.
While the truck has been removed, there is a substantial amount of environmental clean-up work to complete due to liquid asphalt that spilled from the tanker trailer.
A lane restriction for southbound traffic on I-69 to facilitate the environmental work has been removed for the night Thursday. The environmental crew plans to return to the site and re-establish the work zone lane restriction at 7 a.m. Friday.
The crew estimates it will take about four hours to complete the remaining environmental remediation work.
The tanker truck was hauling liquid asphalt used for making paving material. The cargo had to be offloaded before the tanker could be recovered.