Woman facing several charges after found hiding in Marion, IL attic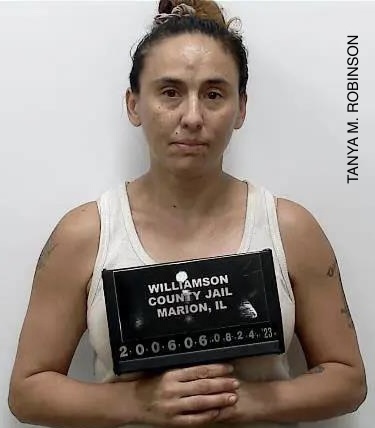 MARION, Ill. (KBSI) – A woman faces several charges after police say she was found hiding in an attic in Williamson County.
Tanya M. Robinson was arrested on an outstanding arrest warrant for failure to appear – driving without a license. She also faces charges of possession of methamphetamine, possession of drug paraphernalia and possession of controlled substance.
Deputies from the Williamson County Sheriff's Office arrived at a home on Stanley Lane in Marion, Illinois on August 24 around 9:52 p.m. to serve an arrest warrant on Robinson.
The home is known to law enforcement to have extensive drug activity.
Deputies received confidential information that Robinson was staying at the home.
Deputies surrounded the home and made contact with the homeowner who confirmed Robinson was upstairs.
Led by Williamson County Sheriff Diederich, deputies entered the home and conducted a protective sweep of the first floor. Then they went upstairs and found sleeping quarters in the south western corner of the second floor. The room had been partitioned by a blanket hung from the ceiling.
In plain view on the night stand next to the bed drug paraphernalia, deputies say several plastic bags containing a white crystalline substance that later field tested positive for methamphetamine, and Schedule 4 narcotics were discovered.
As a search for Robinson continued, it became apparent that Robinson had hid herself inside the attic.
Deputies found Robinson hiding in the far corner of the unfinished attic space and issued verbal commands for her to exit and surrender.
She eventually left the attic and was arrested.
"When areas of concentrated criminal activity are identified the men and women of the Williamson County Sheriff's Office will use every tool lawfully available to protect our neighborhoods," said Williamson County Sheriff' Jeff Diederich.
Robinson was taken to the Williamson County Jail.