12 black bears harvested in Missouri's first bear-hunting season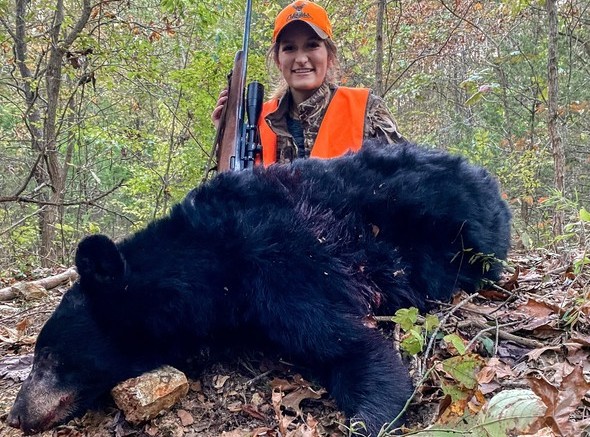 (KBSI) – Missouri hunters harvested 12 black bears during the state's inaugural bear-hunting season from Oct. 18-27.
More than 6,330 hunters applied for 400 permits for the season with the maximum total harvest for the season being 40 bears.
MDC took a conservative approach in developing its bear-hunting regulations. The highly regulated and limited season included a maximum harvest of 40 bears. That equated to about 5% of the total bear population. Baiting and the use of dogs was prohibited. The hunting season was limited to 10 days with a restricted number of hunters allowed to participate. Conservation agents say the regulations were to ensure the bear population wasn't overharvested in any one zone.
Bear hunting in Missouri is limited to Missouri residents and restricted to three designated areas of southern Missouri called Bear Management Zones (BMZ). Each permit issued is for a specific BMZ and hunting is limited to public or private property within the BMZ.
The permit and harvest quotas for the 2021 bear season were:
BMZ 1: Permit quota of 200 with a harvest quota of 20 bears.
BMZ 2: Permit quota of 150 with a harvest quota of 15 bears.
BMZ 3: Permit quota of 50 with a harvest quota of 5 bears.
Black bears harvested during the first season were from the following BMZs:
BMZ 1: Nine (9) bears harvested.
BMZ 2: Three (3) bears harvested.
BMZ 3: Zero (0) bears harvested.
The more than 6,330 hunters who applied during May to hunt a specific BMZ paid a $10 application fee. The 400 hunters selected for permits through a random drawing of all applicants then paid a permit fee of $25.
Among those selected for permits, Kelsie Wikoff of Hume harvested a 268-pound boar (male bear) in Zone 1. She said she had spent 48 hours in a tree stand over three days since the season began Oct. 18 and harvested the bear Oct. 21.
The harvest limit is one bear per permit. Only lone black bears may be taken. Hunters could not take bears that are known to be in the presence of others bears, including female black bears with cubs. Bears may not be disturbed, pushed, harassed, or taken from a den. Bear hunters must wear hunter orange, make reasonable efforts to retrieve shot bears, and may not leave or abandon commonly edible portions. Learn more about bear hunting in Missouri at mdc.mo.gov/bearhunting.
Related story: First black bear harvested in MO during bear hunting season