Construction at Southeast MO State University's Houck Field on pause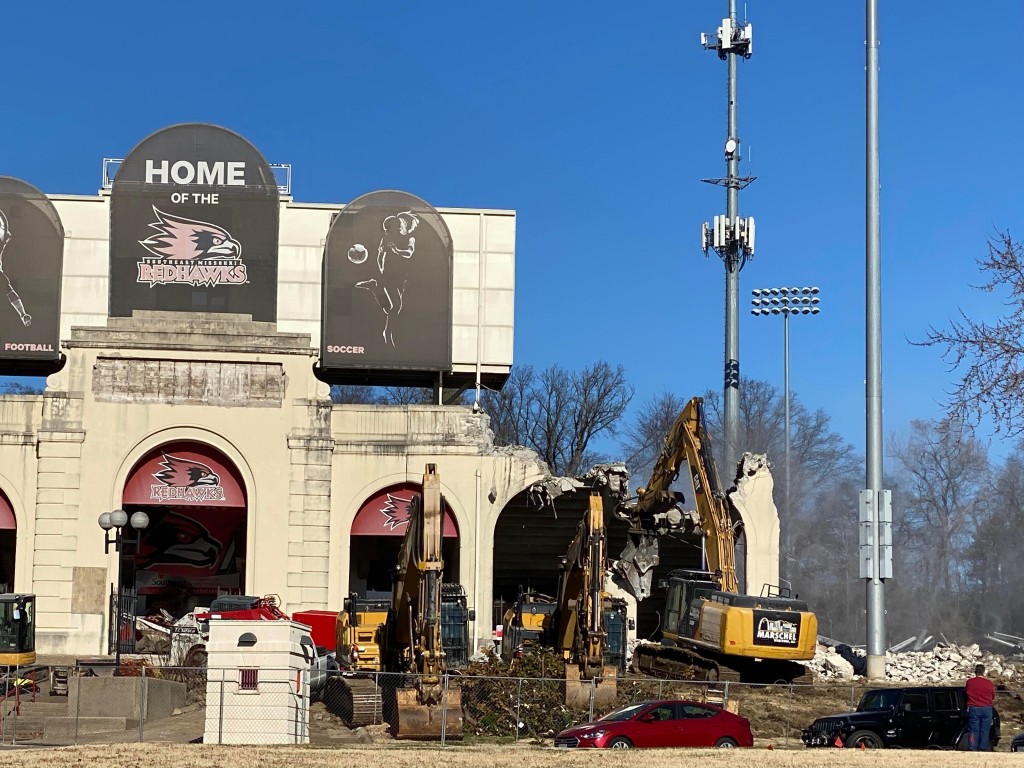 CAPE GIRARDEAU, Mo. (KBSI) – Higher than anticipated bids for construction to renovate Houck Field at Southeast Missouri State University have caused the university to put a pause on construction of a new south grandstand.
Demolition work of the south grandstand was completed by the first week of January.
Two bids were received, but both bids significantly exceeded the initial estimate provided by the architects in the fall.
As a result, university leaders decided to not award the bid for construction of the south grandstand at this time.
The south grandstand will not be restored by the fall 2022. However, Women's Soccer and Football programs are expected to compete at Houck Field this fall.
Read the letter to Southeast Missouri State University community from University President Carlos Vargas.
Dear Southeast Missouri State University community,

On September 1, 2021, we shared with you our intent to renovate Houck Field. Shortly thereafter, we shared plans with the Board of Governors for a new dual role, multi-use complex at the Houck field site, which would include a new stadium. At that time, the Board of Governors approved a contract with Hollis + Miller Architects for Design, Development, Construction Documents, and Construction Administration for the demolition and replacement of the south grandstand at Houck.

With the Board's approval in September and support from the Southeast Missouri University Foundation, the University identified $12 million for this initial phase of the project. Demolition of the south grandstand began in early December and went very smoothly. Demolition work was completed by the first week of January.

During that same time, the University worked with Hollis + Miller to finalize the first construction bid package, which included the structural and underslab utilities portion of the south grandstand reconstruction. Two bids were received, but unfortunately both bids significantly exceeded the initial estimate provided by Hollis + Miller's estimator in the fall.

As a result, we have decided to not award the bid for construction of the south grandstand at this time. It is now clear that our hope to have the south grandstand restored by the fall 2022 will not be realized. However, we fully anticipate our Women's Soccer and Football programs will still continue to compete at Houck Field this fall. Additional information regarding spectator seating and gameday operations will be shared in the coming months.

We knew at the beginning of this process that we may see cost fluctuations due to labor and materials, and we were prepared to absorb some increases. However, not at the scale of what was in the bids we received. We also learned that some of the bid estimates were likely influenced by the aggressive timeline to restore the south grandstands by fall 2022. Additionally, part of the cost increase is presumed to be from the structural work that needs to be done as a result of the underground topography.

Due to these developments, we have been meeting with our architects to examine alternative options, which include: new facility layouts, the use of different and/or hybrid materials, adjusted timelines, and other revisions to our initial plan. We are confident we will be able to identify some efficiencies that will allow us to lower the overall cost of the project and help ensure its success.

Of the $12 million originally identified by the University and the Foundation, approximately $3.5 million have been allocated for payments to Hollis + Miller, demolition of the south grandstand, and site and field prep in anticipation of the 2022 season. This leaves approximately $8.5 million the University can commit to rebuilding the south grandstand. We believe these available funds could increase to about $9.5 to $10 million due to philanthropic gifts we may receive in the near future.

Please know, we remain committed to this project and there should be no doubt that it will be seen through to completion. We continue to have conversations with alumni and prospective donors, community leaders and others about support for this project.

We are encouraged by the excitement many individuals have for a newly imagined, highly functional, multi-use Houck complex and this excitement should not be diminished because of the update we are sharing today. We are confident that the revised options we will soon receive from Hollis + Miller will provide us a viable path forward and we will continue to keep you updated.

Thank you for your continued support of our University.
S-E!

Sincerely,

Carlos Vargas
University President

Brady Barke
Director of Athletics
Related stories:
Southeast MO State closing part of Houck Stadium due to safety concerns
Construction approved for first phase of a new Houck Stadium at Southeast