Emergency officials give update on Mayfield tornado response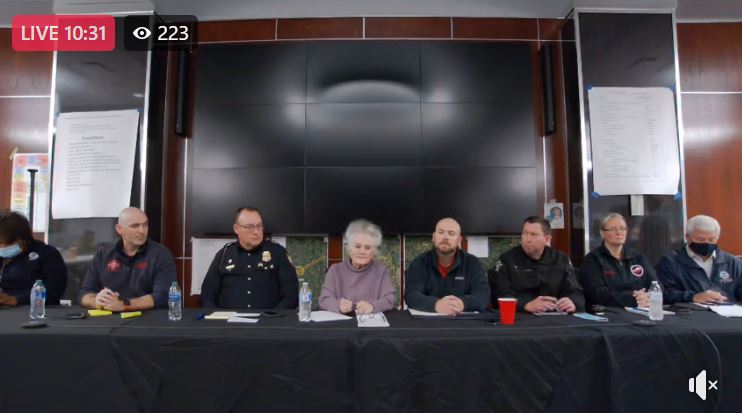 MAYFIELD, Ky. (KBSI) – The Mayfield-Graves County Regional Emergency Operations Center and the Graves County Office of Emergency Management held a Facebook Live event on Tuesday, December 28 at 5 p.m.
The Facebook Live provided a tornado response update and offered information on where residents of the tornado corridor can go to get reliable information and various types of assistance.
Tap here to view the Facebook Live on Facebook.
Residents could submit questions in the Facebook page comments. As far as possible, those questions will be addressed during the meeting. Any that cannot be answered immediately will be answered directly with a reply in the comments on Wednesday.
Residents who were unable to join the live event may playback a recording later in the week. Residents with questions may also call the tornado relief information hotline at any time.
Graves County Tornado Relief Hotline
Residents can request assistance through the Graves County Tornado Relief Hotline at 270-727-5114. Community members should use the hotline for help if they do not have food, water, tarps, generators, blankets, or other essential items. The hotline is operated from 8:30 a.m.–4:30 p.m. After-hour voicemails are also monitored. Use 911 for emergencies.
Point of contact for subcontractors
The U.S. Army Corps of Engineers has provided a point of contact for subcontractors seeking to participate in tornado debris removal efforts in Mayfield and Graves County.
Sub-contractors should use the following contact info:
DRC Emergency Services
Attention: Kristy Fuentes
kfuentes@drcusa.com
1-888-721-4372
Related stories:
Death toll from Dec. 10 tornadoes rises to 77
Initial cell service restored along tornado corridor in western KY
Emergency officials to hold Facebook Live on Tuesday (12/28) to update Mayfield tornado response
Contractors must register in tornado devastated town
Kentucky Emergency Operations Center offers tips for debris removal after storms
Section of KY 58/KY 80/Broadway in Mayfield closed
New website launched to help with tornado recovery in western KY
Point of Distribution established for tornado victims to pick up supplies for the holiday
Important info for storm victims in western KY
'Operation Christmas Tuesday' to bring resources, joy to Mayfield 
Tornado, storm death toll at 90 after KY teen's body found
Western Kentucky Toy Drive drop off locations
Towns in mourning while digging out from deadly tornadoes
In Kentucky, Biden sees firsthand toll of storm destruction
KY Gov: State death toll could top 100