High speed chase through multiple counties nets arrest of Mayfield man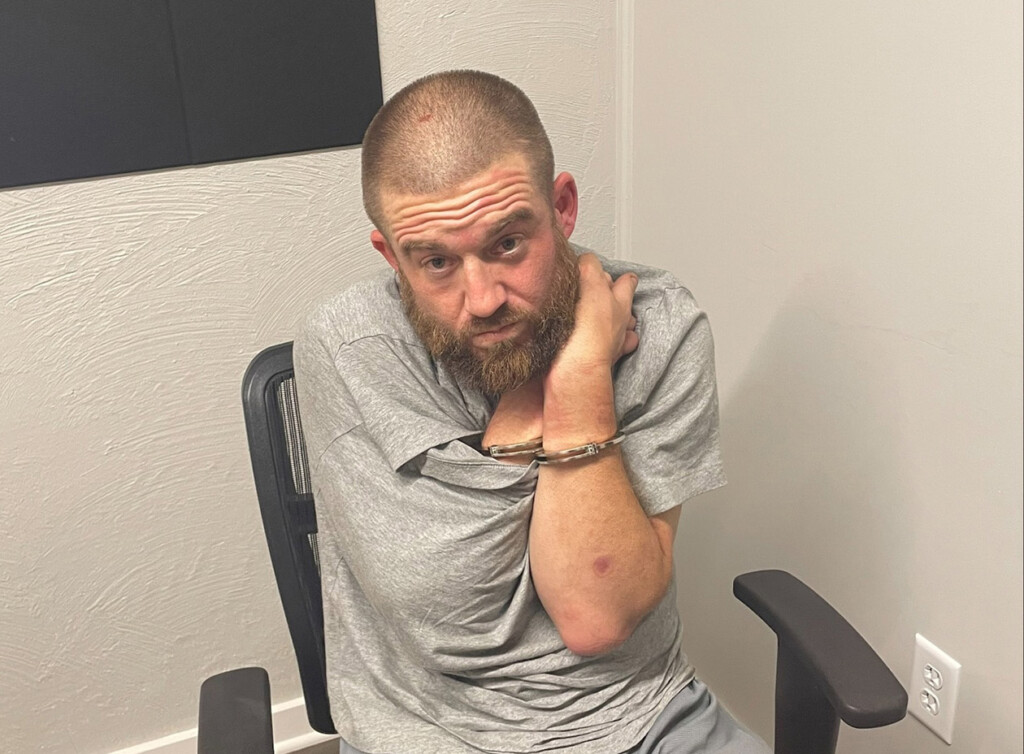 GRAVES COUNTY, Ky. (KBSI) – An undercover drug investigation late Wednesday afternoon led to a dangerous situation for Graves County Sheriff's deputies trying to take the suspect into custody.
Graves Sheriff's detectives identified a Graves County man as a someone who was selling large quantities of crystal methamphetamine in the area.
The man had a lengthy felony criminal history in both state and U.S. federal courts.
An undercover methamphetamine purchase was planned in a rural remote area of Shelton Road located about four miles west of Mayfield.
The suspect arrived in the area around 7:16 p.m. to sell one pound of crystal methamphetamine, according to Graves County Sheriff Jon Hayden.
Sheriff's Deputy Ben Doran, Chief Deputy Jeremy Prince and Sheriff Hayden in three separate police vehicles tried to block the suspect's vehicle in an attempt to block the suspect's get away and diminish the chances of a vehicle chase.
The suspect sped up almost striking the three officers and then left the roadway to get around the roadblock.
The suspect drove in his vehicle driving at excessively high rates of speed on many back roads including Shelton, Rogers Loop, King Road, Carrico Sullivan Road, and then onto Ky. Hwy. 80 West toward the Fancy Farm area, according to Sheriff Hayden.
The suspect drove so fast that deputies lost sight several times of the suspect.
From Fancy Farm, the suspect fled on Ky. Hwy. 339 to Ky. Hwy. 1748, through the St. Denis community and onto Ky. Hwy. 307 in the Beulah community.
A KSP trooper met the suspect on Ky. Hwy. 1748 and was able to provide locations of the suspect sporadically due to the suspects excessive speeds losing sight of the suspect vehicle, according to Sheriff Hayden.
The Hickman and Carlisle County sheriff's departments arrived in these areas and joined in the search and the on and off chase of the suspect.
Officers stopped the chase at times due to the excessive speeds the suspect was driving.
Eventually in Carlisle County, near the Arlington community, Hickman County Sheriff Ben Natividad found the vehicle trying to exit County Road 1129 onto Ky. Hwy. 80. Sheriff Natividad blocked the road and took the suspect into custody along with the Carlisle County sheriff and deputies, Graves County Sheriff's deputies and Kentucky State Police troopers.
The suspect's vehicles engine also blew at this time.
Graves County Sheriff Jon Hayden says he went back where the chase began and found more than one pound of crystal methamphetamine in a road ditch on Shelton Road that the suspect had thrown from his vehicle immediately after the vehicle chase began.
Justin Kyle McClain, 37, of Mayfield was arrested and taken back to the Graves County Sheriff's Office.
McClain faces charges of trafficking in crystal methamphetamine 2nd or subsequent offense, three counts of wanton endangerment 1st degree of a police officer, fleeing or evading 1st degree, speeding in excess of 100 mph, reckless driving, tampering with physical evidence and other charges in Graves County.
Kentucky State Police filed charges against the suspect in both Hickman and Carlisle counties related to the chase in those counties.
McClain has federal ethamphetamine trafficking convictions in federal court in 2018 after being charged with meth trafficking by the DEA. He was on supervised release by federal probation and parole. He also has felony trafficking meth convictions in Graves County Circuit Court in 2013.
The methamphetamine weighed approximately one pound. 456 grams to a pound. Methamphetamine typically is sold on the street to those that are addicted to the drug for $100 per gram.
McClain was taken to an out of county jail facility.
The investigation continues.