KY Gov. Beshear declares State of Emergency ahead of winter weather
(KBSI) – Kentucky Governor Andy Beshear declared a State of Emergency ahead of a winter storm expected to reach the area Thursday afternoon.
"We want to make sure everyone is aware of these frigid temperatures and has time to prepare and to make plans to stay safe and warm over the Christmas holiday. Current projects expect that temperatures will not warm above freezing until at least Monday. This front will first enter western Kentucky tomorrow, Thursday afternoon with rain transitioning to snow. This will lead to dangrous road conditions. If traveling, please plan to arrive by mid-Thursday."
Weather forecasts predict extremely cold temperatures and snow accumulation across the state starting Wednesday, December 20. On Thursday, temperatures are expected to drop rapidly with wind chills as cold as -40 degrees Fahrenheit in some areas of the state.
The front is expected to produce wind gusts of 40 to 50 mph on Friday. Wind chills could reach minus 10 to minus 26 degrees Fahrenheit on Saturday.
The front is expected to affect travel, and other impacts may include broken waterlines, power outages and damage to public infrastructure and private properties.
Kentucky State Parks will serve as a backup warming centers.
The confidence that the roads will be dangerous is high.
Know where your warming center is.
Make sure you have gas in the vehicle.
Have a back up heat source in place and make a vehicle kit (blankets, chargers, flashlight, snacks, spare batteries, thermal blanket, jumper cables, first aid kit, etc.)
"To help us prepare and further prepare to respond, I'm declaring a state of emergency in anticipation of this artic front. This action allows us to have all the state resources needed available and ready to go."
"The Kentucky National Guard and well as the Kentucky Emergency Operations Center are ready. The guard is pre-positioning assets to assist in rescues."
Gov. Beshear signed an executive order to prevent Kentuckians from price gouging. Kentucky State Parks are prepared to offer emergency assistance to those impacted by weather. Seventeen state parks will serve as back up warming centers for those without power. Temperatures are in expected to reach above freezing until the first of the week.
For a full list of closure and updates, visiti parks.ky.gov.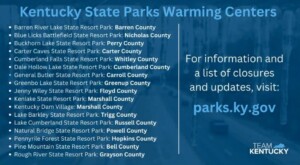 Visit snowky.ky.gov for information and resources for winter driving.
Check road conditions in Kentucky at goky.ky.gov or download the free WAZE app.
Kentucky State Police Col. Phillip Burnett, Jr. urges Kentuckians to stay home and avoid any unneccesary travel.
He urges people to obtain food, water and necessary medications before the storm arrives.
"KSP and our partners, other emergency personnel will be ready and available to respond, but depending on the weather conditions, roadway conditions, roadway closures and calls for service response times could be delayed," said Col. Burnett Jr.
If you see someone who might be stranded on the roads call Kentucky State Police at 1-800-222-5555.
KSP will use Facebook, Twitter and their website to share winter weather updates.
Maj. Gen. Hal Lamberton with the Kentucky National Guard says the guard has readiness teams that consist of soldiers, military tow truck or wrecker, high mobility multi-wheeled vehicle. The Joint Operations Center will be fully operational all day Thursday into the evening and as long as needed.
Gov. Beshear activated the state's price gouging laws to protect families from overpriced goods and services. Consumers in the commonwealth can report price gouging to the Office of the Attorney General and under state law, price gougers can be held accountable.
 Tap here for more winter weather preparedness tips.
Today, Gov. Andy Beshear declared a state of emergency ahead of an arctic front that is expected to bring a flash freeze and severely cold temperatures, with rain changing to snow Thursday night across much of the commonwealth.

Read more: https://t.co/qwfiZL9l12 pic.twitter.com/sDovLZ8SnY

— Governor Andy Beshear (@GovAndyBeshear) December 21, 2022
Related stories:
Wind Chill Warning/Winter Storm Watch for Thursday (12/21/22)
IDOT reminds public to get ready for winter storm
MoDOT urges drivers to be aware of road conditions ahead of winter storm