No injuries reported, several roads remain closed in McCracken County after storms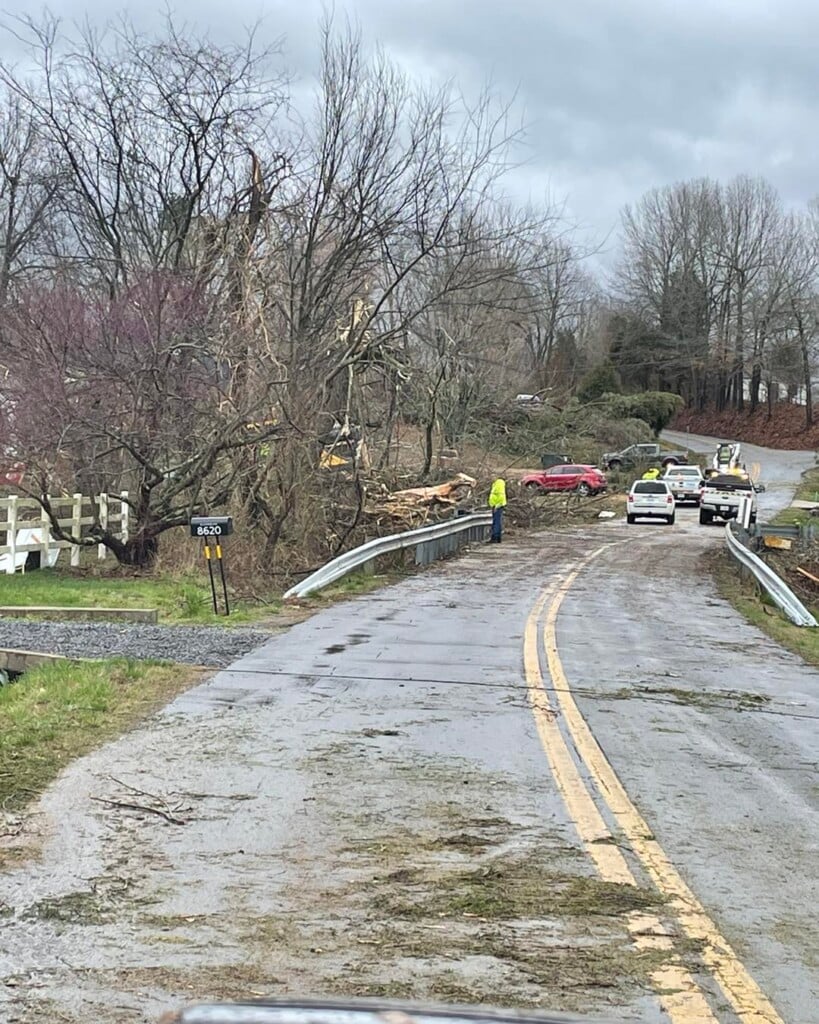 (KBSI) – Emergency responders responded to the Fremont area of McCracken County after receiving reports of a tornado in the area.
Deputies and firefighters went door to door checking for injuries. No injuries have been reported as of Friday afternoon, according to the McCracken County Sheriff's Office.
Several roads are closed going into the main area of damage which was around Hardmoney Road and Old Mayfield Road.
Closed road include:
Husbands/Geibe
Old Mayfield/Lebanon Church
Husbands/Hardmoney
Lovelaceville Florence Station/Houser
Old Mayfield/Bryan
The sheriff's office asks people to avoid this area as utility companies repair damage, crews clear the roads, and assess damage.
Residents who go home and see crime scene or fire scene tape on a mailbox or door are told to not be alarmed. That was left so emergency responders knew that house was checked.
The McCracken County Sheriff's Office will have deputies in the area overnight Friday into Saturday to deter anyone attempting to take advantage of the damage caused.
Judge Executive Clymer declared a disaster, so increased penalties apply.
KSP arrested one person for several offenses including trespassing earlier Friday afternoon.
Trees and utility line are down all over the county, according to the sheriff's office.
Fire departments and sheriff's personnel from Marshall, Graves, Carlisle and McCracken counties as well as Paducah Police assisted during the initial response.
Kentucky Governor Andy Beshear declared a state of emergency ahead of severe storms that produced damaging winds, isolated tornadoes and excessive rainfall across much of the state on Friday.
View weather updates at kbsi23.com/weather.
"We have been through so much and lost too many Kentuckians to severe weather; we don't want to lose anyone else. Please make a plan and prepare for today's expected weather events," Gov. Beshear said in a news release to media. "Emergency management, communications, transportation, energy and environment staff are activated and monitoring the storms at our Emergency Operations Center. We also have the Kentucky National Guard and Kentucky State Police ready to respond."
Kentuckians are asked to avoid calling 911 for traffic and weather updates. The Kentucky State Police requests that if you see or suspect that someone is stranded on the roadways, contact KSP at 800-222-5555.
Gov. Beshear also activated the state's price gouging laws to protect families from grossly overpriced goods and services. With the state of emergency in place, consumers in the commonwealth can report price gouging to the Office of the Attorney General. Price gougers can be held accountable under state law.
Kentucky Emergency Management Director Jeremy Slinker urged Kentuckians to prepare now for the pending storms.
"It's time to put our 'Severe Weather Awareness Week' plans into action," Director Slinker said. "Make sure that if you have to travel, you have an emergency kit in your car, and that you have an emergency kit at home filled with food, water, first aid kits, batteries and rain gear. And always remember, if you see a road that's flooded: Turn around and don't drown."
Director Slinker reminded Kentuckians to never put generators indoors and to use them 8-10 feet outside of their residence where there's no chance of carbon monoxide poisoning.
Th Personnel Cabinet provided guidance to state employees Thursday night urging telework when possible. State employees were notified that state office buildings would close at 10 a.m. Central time to make sure employees have time to get home safely. Many state employees will still be working remotely to make sure critical government services remain available.
Gov. Beshear thanked the school districts that closed schools for the day so students, teachers and school staff could stay safe at home. He also thanked local officials and emergency management leaders for taking action locally to prepare for the storms.
The Disaster Distress Helpline is available at 800-985-5990. It is a 24/7, year-round, confidential crisis counseling and emotional support resource for survivors, responders and anyone in the U.S./territories struggling with distress or other mental health concerns related to any natural or human-caused disaster.
Visit kyem.ky.gov for additional preparedness tips.