Almo man faces several charges arrested after vehicle chase and brief foot chase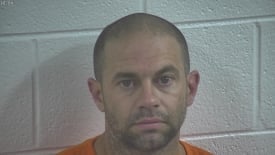 CALLOWAY COUNTY, Ky. (KBSI) – An Almo man faces several charges after a Calloway County sheriff's deputy says he led the deputy on a chase and tried to run away from authorities on foot.
Justin L. Hanks, 38, of Almo, Ky. faces charges of 1st degree fleeing or evading police in motor vehicle, 2nd degree fleeing or evading police on foot, 1st degree wanton endangerment, 1st degree possession of a controlled substance (methamphetamine), 1st degree criminal possession of a forged instrument, and various traffic related charges. He was taken to the Calloway County Jail.
Calloway County Sheriff Deputy J. Hayden tried to stop a motorcycle on Highway 641 North for a number of traffic violations on Tuesday, Nov. 16 around 8 p.m.
When Deputy Hayden activated his emergency equipment, the operator of the motorcycle sped up and attempted to flee, according to the sheriff's office. After a brief chase, the motorcycle turned onto secondary roads and unsuccessfully attempted to drive through a field. The man then attempted to flee on foot. After a brief foot chase, he was taken into custody. Hanks had methamphetamine and counterfeit money in his possession, according to the sherrif's office.
Anyone who witnesses any unusual or possible criminal activity is encouraged to call the Calloway County Sheriff's Office at 270-753-3151 or email ccso.office@callkyso.com.