Johnson & Johnson announces COVID-19 booster shot raises antibodies
J&J announced new data shows a booster show raises immunity for those previously vaccinate with the single-shot dose.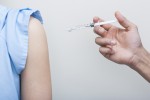 (KBSI) – Johnson & Johnson announced Wednesday that the company supports a COVID-19 booster shot for those who have been previously vaccinated with the single-shot Johnson & Johnson vaccine.
The company conducted two studies in those who had previously been vaccinated with its single-shot vaccine. Interim data demonstrate that a Johnson & Johnson COVID-19 booster shot generated a rapid and robust increase in spike-binding antibodies, nine times higher than 28 days after the primary single-dose. Significant increases in binding antibody responses were observed in participants between ages 18 and 55, and in those 65 years and older who received a lower booster dose.
The single shot of the J&J vaccine generates strong and robust immune responses that are durable and persistent through eight months, said Mathai Mammen, M.D., Ph.D., Global Head, Janssen Research & Development, Johnson & Johnson. Mammen said new data shows that a boost dose further increases antibody responses among study participants who had previously received the J&J vaccine.
Johnson & Johnson is working with the U.S. Food and Drug Administration (FDA), U.S. Centers for Disease Control and Prevention (CDC), European Medicines Agency (EMA) and other health authorities regarding boosting with the Johnson & Johnson COVID-19 vaccine.
Related stories:
Some skeptical of COVID vaccine now asking for blood transfusions from only unvaccinated people
Woman battling rare breakthrough COVID-19 case
Free drive-thru COVID-19 testing in Sikeston on Wednesday, Aug. 25
Increase in COVID-19 cases in Cape Girardeau Co., U.S. officials recommend booster shots