S7HD reports 40 breakthrough, 170 new COVID-19 cases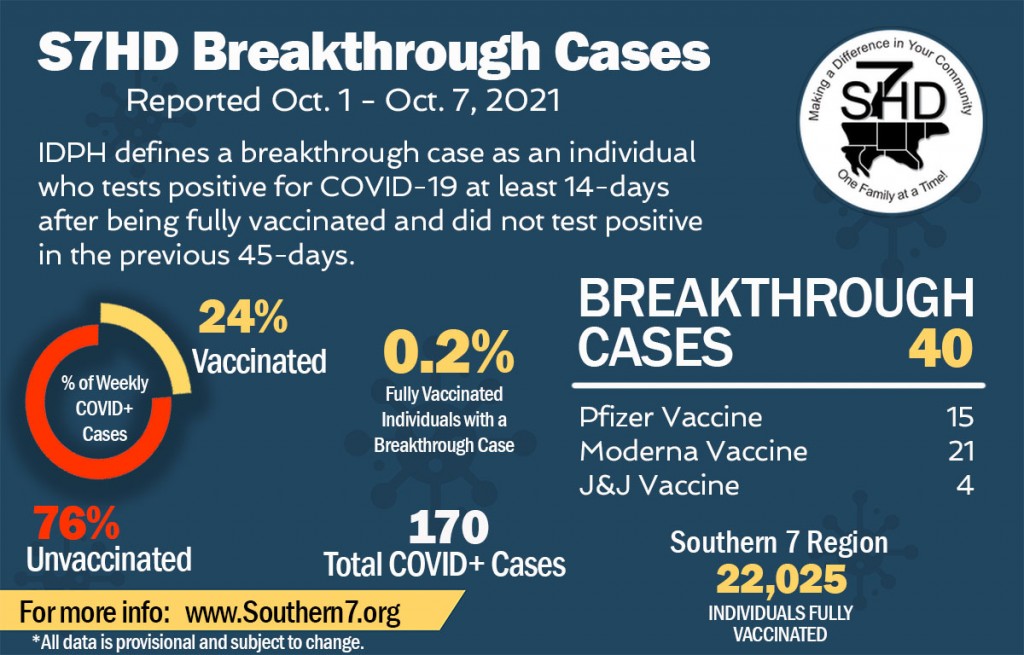 ULLIN, Ill. (KBSI) – Southern Seven Health Department reports 40 breakthrough cases of COVID-19 out of 170 total new COVID-19 cases across the seven county region for the time period from Oct. 1 to Oct. 7.
That means 76% of new COVID infections this past week were in unvaccinated individuals.
A total of 0.2% of fully vaccinated individuals have a breakthrough case. Breakthrough cases are individuals who are fully vaccinated but have tested positive for COVID-19.
Most people with a breakthrough case are experiencing or have experienced very mild COVID-19 symptoms. Fewer still have faced the need for hospitalization. We are seeing a small number of breakthrough cases amongst all age groups, genders, and vaccine makers.
COVID-19 vaccines will not prevent you from contracting the virus but will go a long way to lessening the severity of your illness, greatly reducing the possibility you'll need hospitalization, and further reduce the possibility or death as a result of COVID-19. These vaccines have been in use since mid-December and are still proving highly effective in slowing or stopping the spread of COVID amongst vaccinated individuals.
The Illinois Department of Public Health defines a breakthrough case as an individual who tests positive for COVID-19 at least 14 days after being fully vaccinated and did not test positive in the previous 45 days.