Traffic restrictions remain in southern McCracken County for tornado recovery work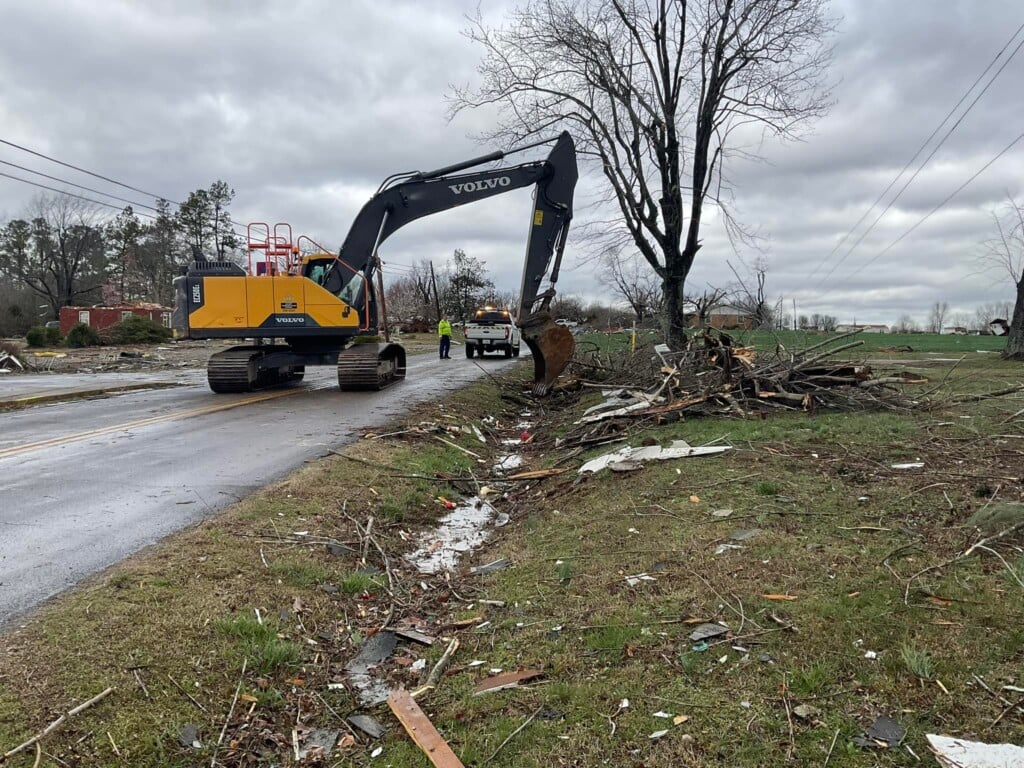 FREMONT, Ky. (KBSI) – Traffic restrictions remain in place along sections of KY 994/Old Mayfield Road and KY 348/Hardmoney Road in southern McCracken County due to ongoing tornado recovery work in the Fremont area.
Some elements of the recovery effort are winding down. Others are ramping up. Several county roads in the Fremont area continue to be closed from time to time to aid recovery activities, according to the Kentucky Transportation Cabinet.
Access to the area continues to be limited to local residents and personnel specifically involved in recovery activities.
Through traffic is highly discouraged because it interferes with ongoing recovery efforts. It also creates a hazard for workers and volunteer groups.
Delays will continue to be common as numerous utility restoration crews are working in the area.
KYTC District 1 crews expect to remain busy the next few days removing downed trees from highway right-of-way.
Hundreds of trees have been blown down by a series of weather events that included straight-line high winds that were clocked in the 60 to 70 mile-per-hour range at times, according to KYTC. Winds around 50 miles-per-hour were common. To clear and open highways as quickly as possible at the height of the storms, crews cut up the downed tress and limbs, then pushed them to the side of the road.
After a few days of repairing roadway and cross drain damage caused by flash flooding along with the high winds, crews are trying to remove cut-up trees and limbs from right-of-way this week. This could continue into next week in some counties.
Drivers are asked to be alert for crews out and about picking up storm debris. Crews will be using mobile work caravans to pick up downed trees across wide areas of the region. Some short-term lane restrictions are likely with alternating flow controlled by flaggers.
Some delays are possible during the movement and placement of equipment to facilitate the work.
Appropriate caution is required where equipment, flaggers, and maintenance personnel are along the roadway in close proximity to traffic flow.
Volunteer groups are also assisting local residents with debris removal. About 300 volunteers are expected in Fremont on Saturday to go community-wide picking up litter and small debris scattered by the EF-2 tornado that struck the area.
Any groups that have volunteers who want to join the clean-up effort should contact McCracken County Emergency Management in advance by email at awatson@mccrackencountyky.gov.
Volunteer efforts are expected to continue through Sunday.