Piedmont man named Logger of the Year
"He takes care to protect the natural resources."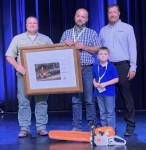 PIEDMONT, Mo. (KBSI ) – A Piedmont man has been named Missouri's State Logger of the Year for 2021.
Chris L'Heureux of Piedmont was nominated by William Riggle, a consulting forester who thought L'Heureux deserved recognition for his consistent, high-quality work. L'Heureux has worked 14 timber harvests for Riggle over the past seven years, according to the Missouri Department of Conservation.
Riggle's timber sales involve detailed contracts designed to assure the logging work adheres to best management practices, according MDC. These practices are designed to minimize damage and protect the health and sustainability of the remaining trees. He said that Chris does an excellent job adhering to the contracts.
"Chris always has a good control of operations by logging in a workman-like and orderly manner," wrote Riggle in L'Heureux's nomination form. "He never cuts an unmarked tree unless it was for safety reasons, promptly corrects any discrepancies, and contacts me regularly to report the number of loads he takes out each day."
L'Heureux avoids working when ground conditions are too wet and is careful to smooth out ruts and install water bars that prevent soil erosion. His actions inspire confidence in the landowners who hire him.
"All the landowners have told me that they like Chris personally, they like his work, and they trust him," said Riggle.
MDC Forest Products Program Supervisor Mike Morris oversees the state's logger of the year awards and says L'Heureux is exactly what you want from a professional logger in Missouri.
"He takes care to protect the natural resources," said Morris. "He also recognizes the value of proper training and safety, which is another reason why his work rises to the top."
As part of his award, L'Heureux received a framed certificate from MDC and a STIHL chainsaw donated by longtime partner Crader Distributing of Marble Hill. He was also named regional logger of the year for the southeast region of the state. L'Heureux received his awards at the Missouri Forest Products Association summer meeting.
Loggers are recognized for minimizing damage to natural resources and using best management techniques that preserve Missouri's forested lands for generations to come. The winning logger must also be certified through the Professional Timber Harvester's Training Program, sponsored by the Missouri Forest Products Association and MDC.