Cape Girardeau, Jackson mayors place friendly wagers on Cape, Jackson football game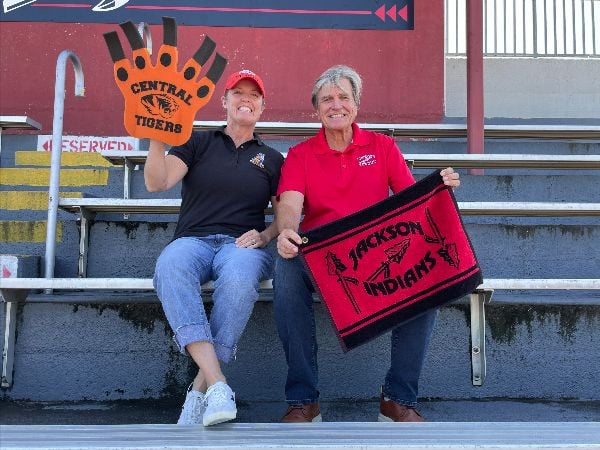 JACKSON, Mo. (KBSI) – Cape Central and Jackson schools have a big rivalry. The Cape-Jackson football game could be considered one of the biggest football rivalries in the state.
This year, each city's mayor placed a friendly wager. The winning mayor will host the other mayor for a service project.
"We're just having fun and supporting these kids," said Jackson Mayor Dwain Hahs. "I'll be cheering with the J-Crue and looking forward to picking a project for Mayor Kinder."
The game kicks will be at Jackson High School at 315 S. Missouri Street at 7 p.m. on Friday, Sept. 22.
Students are encouraged to contact their mayors with project ideas at jacksonmo.org or cityofcape.org/council.
"Cape and Jackson are communities that are very well connected, but on football game day, the rivalry looms very large," said Cape Girardeau Mayor Stacy Kinder. "Jackson will host this year's game, but Cape is bringing the Jungle to the Pit, and we look forward to a great game! All these athletes put in so much time and energy, and the students make this event so fun for the communities, so Mayor Hahs and I just wanted to support all that and get in on the fun."
Advance ticket sales are encouraged.
Tickets for the Cape-Jackson game went on sale on Monday, Sept. 18 at Semo Specialties in Jackson and likely Central High School in Cape Girardeau.
Gate sales start at 5:30 p.m. on game day. Ticket prices are $4 for adults and $2 for students, and senior citizens ages 65 and older.
Spirit-wear for each respective team is available at Horizon Screen Printing in Cape Girardeau, and Semo Specialties in Jackson.
Those who can't attend the game in person can watch a live stream of the game on the Jackson High School Athletic YouTube page at https://www.youtube.com/@jhsathletics1363/streams.