MO Dept. of Conservation asks people to look out for spongy moth caterpillars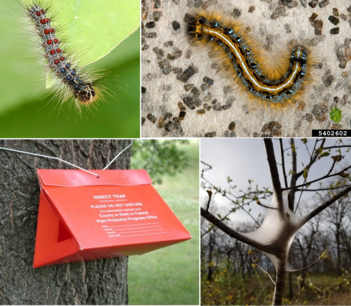 (KBSI) – Missourians may see silvery, tent-like webbing in the crotches of tree branches from mid-April through May.
These webs are made by a native insect called the eastern tent caterpillar (Malacosoma americanum).
The hairy caterpillars are occasionally seen in very high numbers. Many people may mistake them for an invasive tree killer called the spongy moth (Lymantria dispar). This pest isn't established in Missouri, but the Missouri Department of Conservation wants the public's help keeping an eye out for it.
On warm days, eastern tent caterpillars emerge from their protective silk webs to eat leaves from wild plum, black cherry, crabapple and other ornamental trees in the Prunus and Malus families. The spongy moth caterpillars do not make silk tents. They eat about 300 different trees and plants, according to MDC.
Several oak species that are common in Missouri, like white oak and northern red oak, are the caterpillars' favorite. That make spongy moth caterpillars at the top of the most dreaded invasive forest pest, according to MDC.
The Missouri departments of Conservation and Agriculture, in partnership with the US Department of Agriculture, conduct an annual insect survey to look for spongy moth. You may see traps at local parks or along roads in the state. If you see these traps, MDC asks you leave them alone so they can catch any spongy moths that might be around.
Native eastern tent caterpillar rarely causes tree death in Missouri. The bad news is that early-season defoliation is a source of stress for trees since they are forced to use energy to grow another set of leaves. Most of the time, healthy trees can tolerate some leaf-munching, but trees already stressed by drought or disease may not be able to recover from severe defoliation, according to MDC.
To help stressed trees in your yard, mulch them properly and water them during dry periods. For deciduous trees, 10 gallons per inch of trunk diameter (measured at 4.5 feet from the ground) is recomended. Evergreens need about half as much water as deciduous trees, according to MDC.
Report possible spongy moth sightings to Foresthealth@mdc.mo.gov.