Raising awareness about suicide prevention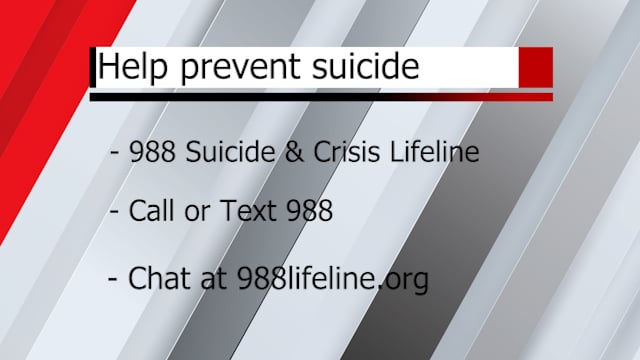 CAPE GIRARDEAU, Mo. (KBSI) – According to a 2018 Missouri Institute of Mental Health report, Missouri ranked 13th in the nation when it comes to suicides. 
In Missouri suicides are the 10th leading cause of death.  
Jenny Keene, a licensed social worker in Cape Girardeau, says signs of a person experiencing suicidal thoughts include what a person says to others. 
"Common warning signs are increased statements of wanting to die, hopelessness, feeling like a burden, or being in pain," said Keene. 
Kenne says along with an increase in talking about death, you may notice a change in behavior.  
One of the few signs to look for is individuals searching online for different methods of ending their lives. 
"Withdrawing from activities, isolating from friends and family sleeping too much or too little," said Keene. 
if these warning signs apply to you or someone you know call or text the Suicide and Crisis Lifeline at 988. 
For the Crisis Text Line text "Hello" to 741741.
Keene says there are other options in the area as well.  
"Behavioral health crisis center in Cape Girardeau, that recently opened it's a partnership between the Community Counseling Center and the Gibson center,"said Keene
They provide short-term mental health stabilization for up to 72 hours and resources for those looking.  
Kenne says this month and all year round it's time to break the stigma around mental health struggles and treatment.  
"Taking care of our mental health is just as important as our physical health… we keep having those open conversations about mental health … we're hoping that will improve and people will feel more comfortable reaching out for help," said Keene.