KYTC crews prepped and ready for winter weather, MSHP urges drivers to be extra vigilant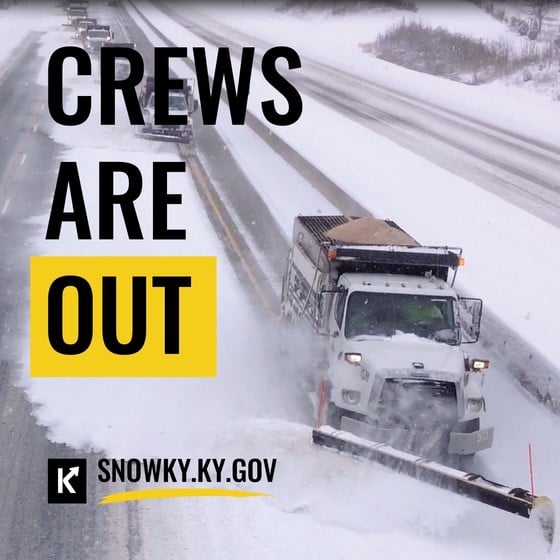 (KBSI) – With snow showers expected in parts of Missouri this week, the Missouri State Highway Patrol warns drivers to by extra vigilant when driving in inclement weather.
Be sure to increase your following distance as you drive. Stopping quickly on wet, snowy, or icy roads can be hazardous or impossible. Leave five seconds between your vehicle and the one in front of you is always a smart idea, especially in inclement weather.
In the cold months of 2021 (January, February, March, November, and December) there were 25 people killed and 1,995 people injured in a total of 7,392 crashes with weather conditions of snow, sleet/hail, or freezing, according to MSHP.
Troopers urge everyone to pay attention to weather conditions and make smart decisions regarding travel. If conditions dictate, avoid driving on Missouri's roads. When you travel, make sure your vehicle is completely clean of snow, use your headlights to increase visibility, and reduce your speed when the roadway appears wet, or snow is present. Lower overnight temperatures may cause wet roadways to freeze and become slick. Missouri law states if you're using your windshield wipers, your headlights must be turned on.
During inclement weather, driving the speed limit is not "exercising the highest degree of care." Adjust your speed to the weather. Do not use cruise control and increase your following distance. Allow extra driving time for you to reach your destination at a slow, safe speed.
Troopers suggest keeping your fuel tank at least half full. Place an ice scraper, battery booster cables, blankets, extra coats, gloves, water, non-perishable food, first aid kit, flashlight, small shovel, and a bag of sand or cat litter in your trunk now, before an emergency occurs.
Make sure your cell phone is fully charged and keep it with you. Do not use your cell phone when you are driving. Park your vehicle well off the roadway or in a parking lot before placing a call. The Missouri State Highway Patrol emergency number is 1-800-525-5555 (or *55 on a cellular phone). These numbers ring at the nearest troop headquarters where troopers are available to assist you.
Travelers are encouraged to check road conditions before driving to help determine if the trip can be completed safely. Missouri's Road Condition Report is available at 1-888-275-6636 or MoDOT's Road Condition Map. The MoDOT Traveler Information Map app can be downloaded free of charge to your smart devices.
The MSHP reminds travelers to buckle up, pay attention, be courteous, and obey all traffic laws. When weather conditions make driving hazardous, drive only when absolutely necessary.
Kentucky Transportation Cabinet workers are prepped and ready to keep road clear during winter weather.
For months, crews have been trained, salt and road treatment supplies have been restocked, plow trucks have been serviced and route plans have been updated.
A fleet of 1,365 state-owned and contracted plow trucks is on deck to be deployed when needed. View a short video here.
"Our crews are essential to keeping citizens and commerce moving in Kentucky," said KYTC Secretary Jim Gray. "While the severity and frequency of snow events are unknown, we are ready to act and do our best with the resources we have."
The cabinet has stockpiled more than 300,000 tons of salt, nearly 1 million gallons of brine for anti-icing efforts and more than 1 million gallons of calcium chloride – an additive to salt for deicing.
KYTC uses a three-tier system to prioritize treatment and snow clearing on state-maintained routes. Route designations are based on factors such as traffic volume and connectivity to critical services like hospitals. During routine snow and ice events, crews operate using snow and ice priority route maps for maximum equipment and materials usage efficiency. The cabinet established a snow emergency plan for severe winter storm events to deploy resources within each county to cover the highest priority routes.
The snow trucks tend to travel between 25 and 35 miles per hour for optimal salting and plowing results, according to State Highway Engineer James Ballinger.
"By driving where the plow operator can see you, being patient and giving them room on the roads, you can help some of our most essential public servants make it home safely at the end of their shift," said Ballinger.
Kentucky's fleet of snow-clearing vehicles includes nine tow plows in different parts of the state. Tow plows have a trailer-mounted rear plow that swings out to resemble a jackknifed truck. It allows one driver and a truck to clear two driving lanes in one pass. Two of the plows are housed in Frankfort for deployment wherever severe weather creates a need for increased support on wide, high-priority routes. Seven others are based in Graves, Grayson, Hardin, Lyon and McCracken counties.
KYTC maintains most roads, streets and bridges that are part of the State Highway System. Those include interstates, parkways, and U.S. route designations.
KYTC offers tips to keep travelers safe:
Travel only when necessary during major snow events.
Stock vehicles with ice scrapers, jumper cables, blankets, a flashlight, a cell phone charger, non-perishable snacks and a first aid kit should you get stranded on the road.
Winterize your vehicle. Check your car battery, tire pressure and brakes. Ensure your heater, defroster, headlights and windshield wipers are working properly.
When snow and/or ice are on roadways, drive slowly no matter what type of vehicle you drive. It takes more time and distance to stop your vehicle in poor weather, so brake early and slowly.
Pay attention to weather advisories and allow more time to travel for routine commutes.
Slow down when approaching intersections, off-ramps, bridges or shaded areas. These are all candidates for developing black ice – a thin coating of clear ice that can form on the pavement surface that may be difficult to see.
Maintain a safe distance from snowplows and other heavy highway equipment, and do not pass snowplows on the shoulder.
Know before you go. Download the free WAZE app or visit ky.gov to check traffic conditions before you travel. The map also offers access to select traffic cameras on interstates and parkways.
Eliminate distractions while driving, such as using a phone and or eating.
Visit snowky.ky.gov for snow and ice resources.
Name the Plow
KYTC is introducing the first statewide Name the Plow program. Drivers have the chance to name one of 14 snow trucks in the state. One truck will be named in each of Kentucky's 12 highway districts and two tow plows from the Franklin County-based KYTC strike force. The name will be displayed on the vehicle so residents can see it while it's out for pre-treating and plowing activities. Kentucky residents of all ages can submit names beginning Nov. 14 and running through Dec. 2 by completing this online form. KYTC staff will vote on the winning names, and winners will be announced in early January. Entry rules are posted on the form.