Murray, KY man arrested after police say woman held against her will for 2 days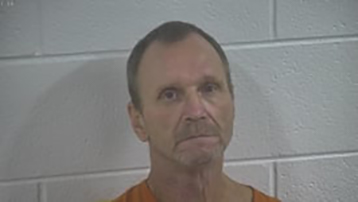 CALLOWAY COUNTY, Ky. (KBSI) – A Murray, Ky. man faces multiple felony charges after police say he held a female against her will and had multiple drugs.
Calloway County Sheriff's Office deputies responded to a 911 call at a home on Marigold Lane. They found a man and woman outside the home.
Jody M. Smith, 58, of Murray was charged with violation of a Kentucky EPO, 1st degree possession of a controlled substance (methamphetamine), possession of marijuana, possession of drug paraphernalia, 1st degree unlawful imprisonment, 2nd degree wanton endangerment, intimidating a participant in the legal process, and possession of a firearm by a convicted felon. He was taken to the Calloway County Jail.
Smith was out on bond for a pending 2nd degree assault charge in Marshall County. He was in violation of a Kentucky Emergency Protection Order (EPO) involving the same female victim, according to the sheriff's office.
Deputies found suspected methamphetamine, marijuana, and paraphernalia. Smith was taken into custody.
The female also reported being held against her will at the home for approximately two days, at times under threat of being shot by Smith, according to the sheriff's office.
Anyone who witnesses any unusual or possible criminal activity is encouraged to call the Sheriff's Office at 270-753-3151 or email ccso.office@callkyso.com.