Multiple agencies coordinating to bring bottled & raw water to Marion, KY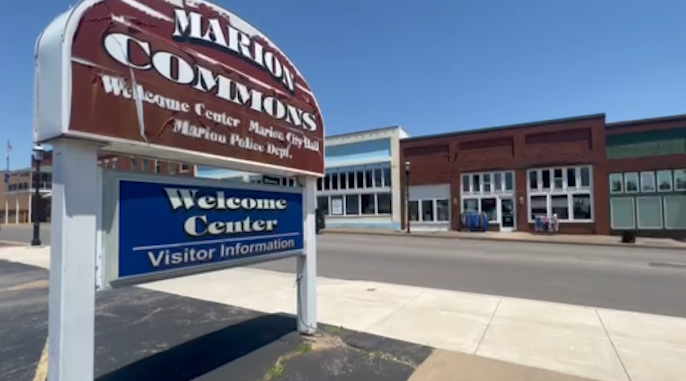 MARION, Ky. (KBSI) – Multiple agencies are coordinating daily to bring water to the citizens of Marion while short- and long-term solutions are sought.
Kentucky Gov. Andy Beshear updated Kentucky families in Marion on his administration's actions to help address the city's water shortage during this Team Kentucky update on Thursday.
The Kentucky Division of Emergency Management (KYEM), the Kentucky National Guard, the Division of Water, the Kentucky Transportation Cabinet (KYTC), the City of Marion and the private sector are coordinating daily to bring bottled and raw water to the city and to find short- and long-term solutions to the water emergency.
On Wednesday, July 20, six truckloads of water purchased by KYEM were delivered. Teams have also identified and repaired a water line leak saving an estimated 144,000 gallons of water per day. So far, 73,000 gallons of water handed out by the Kentucky National Guard and put into the hands of Kentuckians. The City of Marion received 1.75 inches of rain, helping to put an additional four inches in Old City Lake.
Engineering will be done to complete a water connection from the City of Marion to the Sturgis Water Co., which will meet more of the city's water demand. Dye tracing and aerial monitoring are also being conducted by drones to identify blockages hindering hauled water from entering the City Lake. Paducah Water has provided a team to assist with the repair of additional identified leaks in the water system. This team will also provide in-house lab analysis for finished water sampling this week.
Related stories:
Marion Water Crisis: Water pipeline burst
Water line break in Marion, KY
Marion, KY water crisis update
Marion, KY under water boil advisory, progress made toward fixes to water crisis
Marion, KY water crisis continues
City of Marion, KY declared in State of Emergency
Marion, KY residents asked to eliminate non-essential water use